Foals 2021/22 Season - Shetlands & Donkeys
First Cotswold foal for 2021 (Name coming)
A beautiful palomino skewbacd filly. DOB 11/9/2021.
Sire Cotswold Casanova Cassidy Reg. No. 579NZ
Dam Burravoe Lady Jane Reg. No. 687NZ
First foal for the 2021 season. Wasn't expecting this colour, so a lovely surprise to enjoy.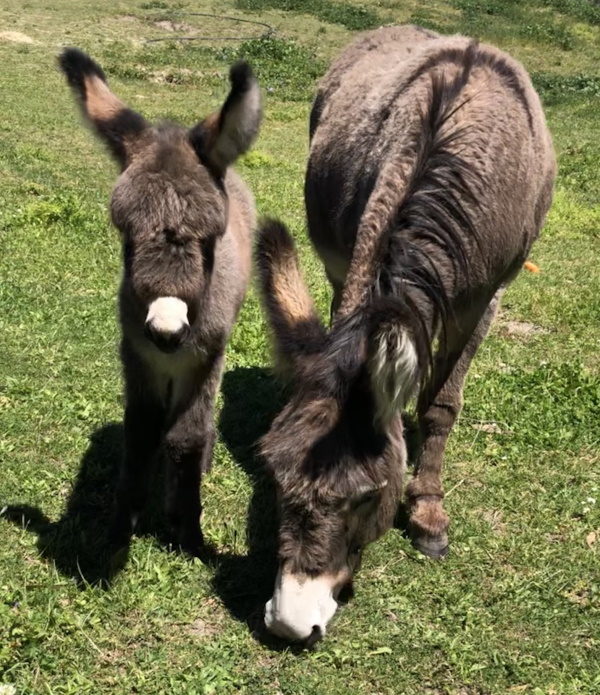 Cotswold Penelope
. DOB 16/11/2021.
Sire Wee Dram Massey Ferguson Reg. No. NZ JK09/1577/4
Dam Cotswold Pickadee Reg. No. NZ JY07/1827/3
This super cute foal arrived safely from beautiful mum Pickadee, another wee stunner by sire Fergie.
Cotswold (unnamed) Piebald Colt
DOB 6/11/2021
Sire Yeo Lodge Tennessee Top Notch (Imp Aust) Reg. No. 981NZ
Dam Cotswold Athena Reg. No.469 NZ
Another pretty foal from beautiful Athena, like all the foals by his sire I'm sure this boy will have a lovely easy to handle temperament. He is a purebred Shetland pony, is for sale and will be gelded at weanling time, & registered NZSPBS.
Cotswold (Name coming)
Chestnut filly. DOB 30/10/2021
Sire Cotswold DJ McQueen Reg. No EIB/K15/1719
Dam Awapuni English Rose Reg. No EIB/Y12/1960
This foal is a people's donkey, loves everyones attention just like her sire. She is NOT for sale as being retained by stud.
Cotswold Little Raindrop
Grey-dun Mediterranean Miniature Jenny. DOB 28/12/2021.
Sire Chateaus Texas Premiere MB. AMMD 30 Reg. No. 30NZ
Dam Cotswold Rainbow. Reg. No. AMMD 207NZ
Another beautiful jenny foal from Rainbow. We have retained this foals full sister who is stunning. I'm sure Raindrop will be the same . She is for sale to an approved home. Photos taken at 12 days old.