Fenwick Aniseed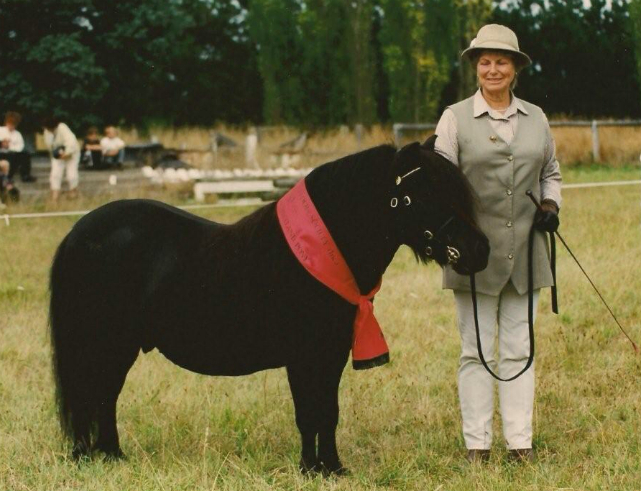 ( Deceased ) NZSPBS. Sire Of The Year 2011, 2012 and 2013.
(Imp Aust) NZ73 Black 9.3h.h.
Brand NF near shoulder, 38 over 88 off shoulder, DOB 23/9/1988
Breeder: Fenwick Stud Pty Ltd., Donnybrook Rd., Yan Yean, Victoria, Australia.
Sire Fenwick Satona 2169S - Black 9.3 h.h.
Dam Fenwick Antoinette 12453S - Grey 9.00 h.h.
Retired from standing to outside mares.
Aniseed is a blue black stallion with a profuse mane and tail.
A true working Shetland, strong and sound with a great gentlemanly temperament.
Although now retired form the show ring, Aniseed had a wonderful show career, and was the winner of many Supreme Championships over the years. He was a pleasure to show and would stand up like a cardboard cutout, and only move when asked. His beautiful true black coat would be gleaming and was much admired. We were often asked if we had dyed this pony. I always had much pleasure in answering, he is wash 'n' wear, and in his true colour.
Aniseed's progeny have excelled in the show ring over the years, and many have proven themselves to be top harness and children ridden ponies, also many are now great breeding stock. We are very proud to have had the opportunity to own such a lovely stallion. Aniseed carries some wonderful old bloodlines of the early imports to Australia from the UK. His bloodlines have made a valuable contribution to the foundation lines for present and future Shetland pony breeders to utilize in NZ.
In Aniseeds younger days he was trained to harness, not for competition but for our own pleasure, he adapted well to harness work, and was often sort after with his four wheeler gig for weddings and church functions over the years (photo below, our daughters wedding day). Aniseed also attended the funeral of one of our Shetland members as the guard of honour pony, this was a great honour to have been asked. That day this beautiful pony stood quiet and proudly, as if he knew what he was there for.
Shetlands sired by Aniseed
Cotswold Passion Flower
Cotswold Athena
Cotswold Rosetta
More Photos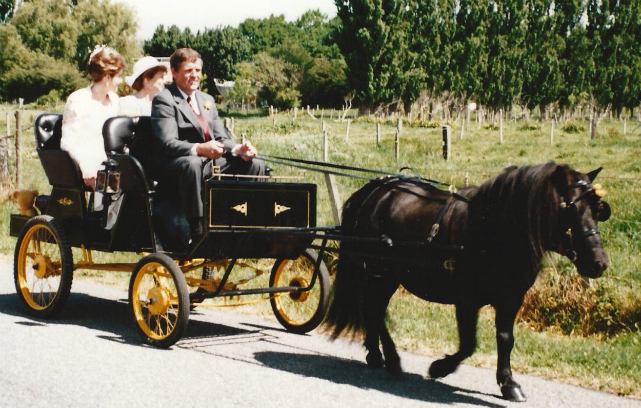 On wedding duty. Aniseed making his way to the Tai Tapu church to deliver us to our daughter Rachel's wedding.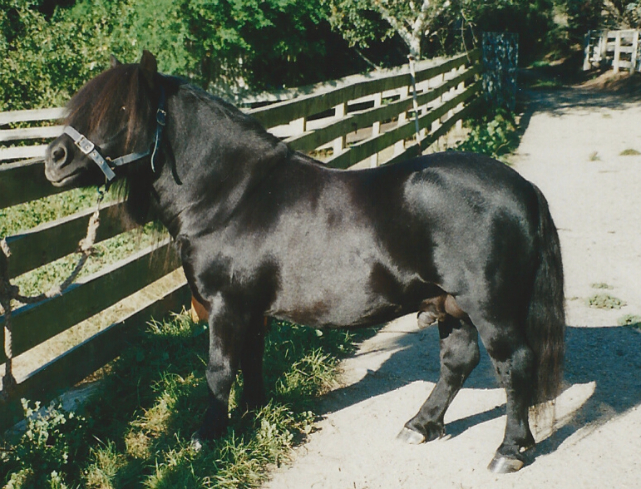 Aniseed as a stunning young mature stallion, he looked the image of his grandsire Harviestoun Sattoc (Below).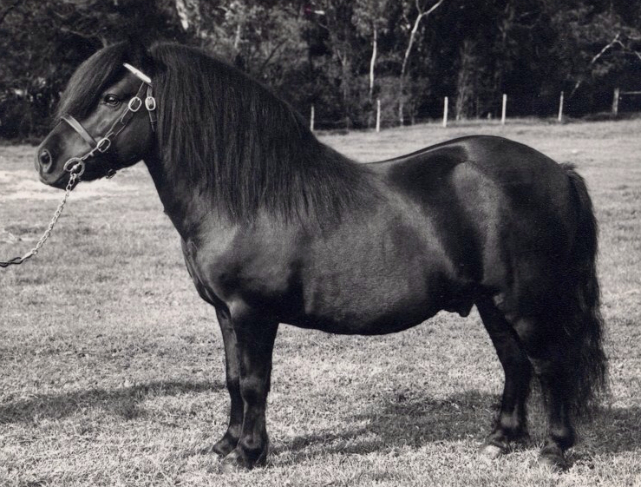 Harviestoun Sattoc, Aniseed's grandfather. [Photo courtesy of Fenwick Stud]